FEMLEAD's History in Delhi
Delhi's informal economy workforce remains unrecognized despite being in the nation's capital. Since 1999, FEMLEADS has been organising women in order to bring them out of the shadows, support their livelihoods, and lift them out of poverty. FEMLEADS's work in Delhi began with women vegetable vendors in Jahangirpuri area.
While organising began in a small locality, other women soon joined as they shared common livelihoods, concerns, and goals. Through 9  Shakti Kendras (SSKs), FEMLEADS  Delhi now covers 18 areas of the city including: Jahangirpuri (North Delhi); Raghubir Nagar, Sonia Vihar (West Delhi); Sunder Nagari, Gokulpuri, Rajiv Nagar and New Ashok Nagar (East Delhi); Anand Vihar (North-East Delhi), Nand Nagri, Mulla Colony and Mustafabad.
Women Linked With Social Security Schemes
Women Provided With Health Referrals
Enabling women microentrepreneurs and women-run collective social enterprises to become resilient beyond COVID-19
Eliminating the barriers created due to poor infrastructural facilities and weak land tenure security across six settlements in Delhi
Aims to create awareness on sexual harassment at workplace (POSH Act) and ensuring functional local complaints commitee for informal workers
Improving transparency and traceability for home-based workers in Apparel and Footwear chains.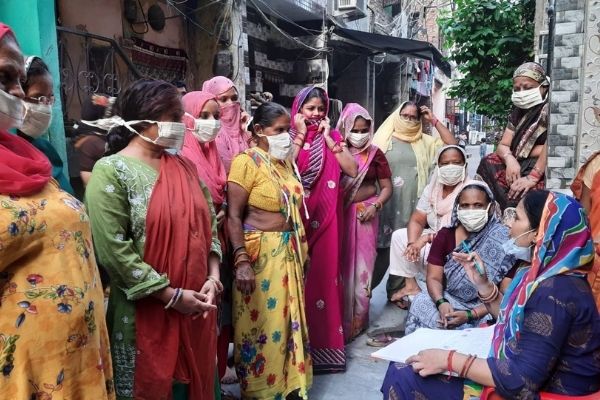 Femleads in  Delhi has organized 6,000 street vendors in Delhi. Femleads in  Delhi has opened Delhi's first Mahila Bazaar, whereas women vendors now work in 3 of the city's major markets- Qutub Road Market, the Book Bazaar, and the Velodrome Market.
SEWA Delhi links construction workers with the Delhi Building and Other Construction Workers' Welfare Board (DBOCWWB) to register workers, secure social security entitlements and engage in advocacy for their legal recognition. More than 4,300 domestic workers have organized under SEWA Delhi to gain awareness of their rights and enable them to mobilize with collective strength. Through government and employer liaison, SEWA Delhi facilitates domestic workers towards addressing their concerns, such as ensuring decent wages, safe work conditions, and paid leave. It currently runs "My fair home" campaign wherein SEWA coordinated and mediated consensus-building consultative meetings between domestic workers and their employers for the development of a work-based wage chart to establish fairer working conditions. Nearly 15,000 home-based workers have been organized till now in Delhi where they have formed three trade groups in New Ashok Nagar, Rajeev Nagar and Jahangirpuri.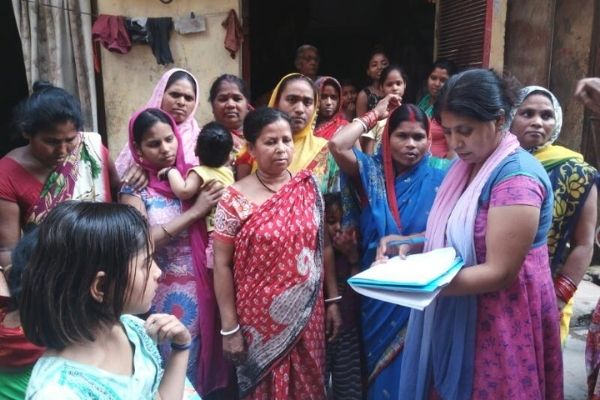 Major Advocacy initiatives
Femleads in  Delhi has been instrumental in the passing of Street Vendors Bill in 2014 after dedicated and collaborative advocacy efforts. It also experienced victory in a court case to prevent displacement of Qutub Road Market.
SEWA Delhi has been networking with key government stakeholders such as the MCD and the PWD, alongside other organizations such as the National Association of Street Vendors, India (NASVI) in order to ensure sustainable policy developments for street vendors. Since January 2014, SEWA has been the lead partner on the ILO supported project "Preventing trafficking of women and girls in India through empowerment and organization of domestic workers.
As a part of the 'Main bhi Dilli' campaign, SEWA Delhi has been working towards making Delhi more just, equitable and sustainable by engaging community members in the 2041 Master Plan process. SEWA advocated to make regularisation schemes for unauthorised colonies more compliant with ground realities and extend its applicability to Zone-O of the master plan. SEWA also advocated for better spatial and mobility planning for various trade groups.
Workshops were conducted with several settlements all over Delhi to spread awareness on the new plan and how they could engage with it. As a result, over 1100 objections and suggestions to the Master Plan of Delhi 2041 were filed from 9 SEWA settlements.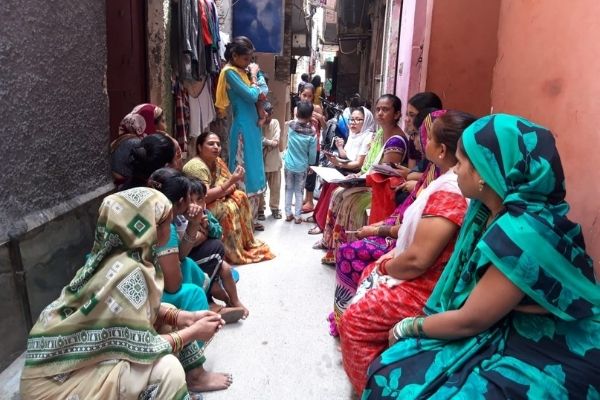 Addressing Community Issues
The COVID-relief initiative carried out during 2021 provided direct support to over 95,000 people in the form of ration and cash transfers to the affected families.
Our 100 grassroots women leaders were at the forefront of raising awareness about the pandemic by using Whatsapp or holding door-to-door visits. They even facilitated teleconsultation services with the volunteer doctors, thus reaching out to nearly 20,000 members in Delhi.
Through Zamini Adhikaar Abhiyaan, SWA Bharat is identifying infrastructural gaps in four informal settlements of Delhi. Together with communities, SEWA has worked to provide and improve infrastructure services for approximately 15,000 women through awareness, community mobilization and continuous liaising with government stakeholders. Improvements include regularised waste collection, functional drainage, and sewerage systems, as well as the maintenance of community toilets, installation of streetlights, and water tanks. These improvements have helped create hygienic neighbourhoods and safe working environment; improving overall health and work productivity of women.
Under the skill development training, 73 women above the age of 18 years received the capacity building training in retail and advanced garment making courses.
Around 30 women were placed in the field of tele-calling and small private bank jobs and received the salary within the range of 120,000 to 180,000 INR per annum. SEWA Delhi started an initiative called "Vahini" that aims to provide capacity building for SEWA members to seek opportunities as E-rickshaw drivers. SEWA Delhi has mobilized 7 women to become e-rickshaw drivers by teaching them motor skills, helping them apply for a driver's license, and financing flexible loans for the purchase of e-rickshaws. Currently they earn 1000 to 1500 daily by driving an e-rickshaw and thus carving a space for themselves in a male-dominated profession.